Getting Enquiries from LinkedIn
Are you dabbling with LinkedIn, because you know it's a place you should be present, but wondering what's the point because it's not producing any business?
If so, read on…
"This LinkedIn workshop helped us take a quantum leap in what has always been a confusing area for us." Ken Gorman, Transworld Business Advisors
10th January 2020 – 10:00 – 12:30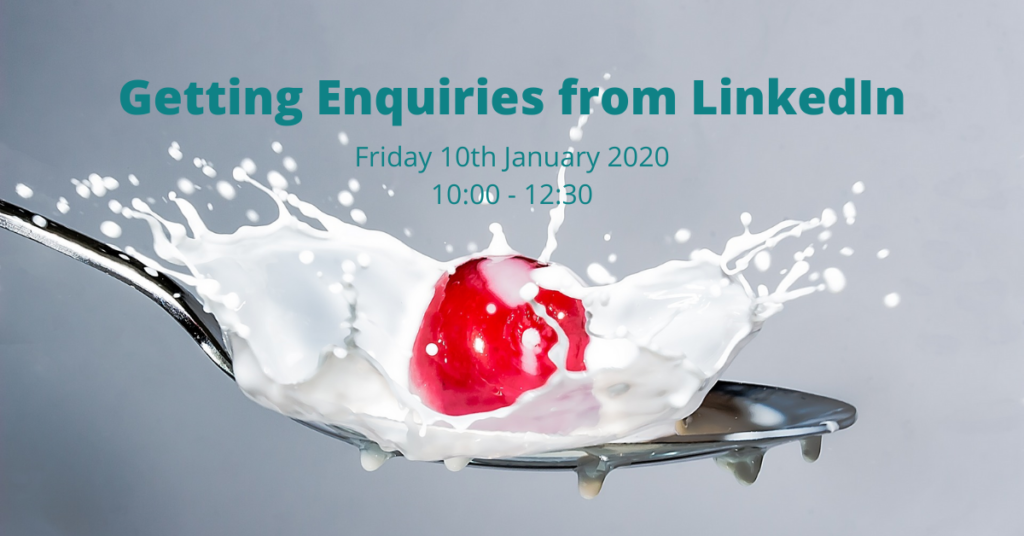 Venue: Reigate Manor Hotel, Reigate Hill, Reigate, Surrey RH2 9PF
Cost: £37
Do you have a LinkedIn profile, but haven't looked at it in ages?
Do you post every now and again, but wonder what's the point?
Would you like to know how to get on the radar of people you'd really love to work with?
If you're nodding your head, this workshop is definitely for you!
LinkedIn must be one of the most underutilised business tools. Now's the time to unlock it's true potential and start filling your pipeline with prospects who are ready to buy.
Taking an active approach to LinkedIn doesn't have to be daunting, intimidating or time consuming.
Once you know how to present yourself in a way that's relevant to your target audience and how to connect and communicate in a way that resonates with them, you're well on the way to tapping into this great resource.
Attend this LinkedIn Workshop and learn how to:
Create an attractive LinkedIn profile that appeals to your ideal customer
Search for and connect with contacts who are super important to you
Create content that gains engagement, speaks to your ideal customer and gets them asking you to get in touch.
Feel free to bring your laptop or iPad so that you can look at your profile and explore LinkedIn as we work through the exercises.
Download the LinkedIn app to your phone, too. You'll have to come along to find out why!
Here's a question. "How much will you earn from just one new customer from LinkedIn?"
The answer makes £37 to attend this workshop pale into insignificance.
Can you afford to miss it?
"One of the best workshops I've ever attended and to anyone who's thinking about signing up I'd highly recommend that you do and make the most of Nicola's skills to help maximise your online potential to attract the right clients for you."
Charlie Jeffery, Fortis Mortgage Brokers
Here are a couple more comments from two of the 70+ people who have benefited from this workshop.
"Nicola's LinkedIn workshop took us through all the aspects we needed to know in a logical and understandable manner. My profile is now much more professional and I'm more confident in approaching contacts."
Åse Greenacre, Family Focus UK
"Nicola's workshop has given me confidence and the tools I need to be proactive on LinkedIn. Her simple, methodical and step by step approach has demystified the process and I am now able to connect with contacts to create a relevant audience. By scheduling regular posts, I can now keep them up to date with key industry updates and at the same time, help to establish ourselves as thought leaders on significant issues."
Sarah Johnson, Index Property Information
Cancellation policy:
I appreciate that circumstances crop up that may mean you have to cancel. A full refund will be given if notice of cancellation is provided before 10am on 8th January 2020.