What is Sprint for Growth?
There are times when you need to think differently about your business and do new things to reach the growth goals you've set.
The problem is the brain keeps thinking along the 'usual' lines, which have either been implemented already, tried or discarded.
There's plenty of people out there that will say they can help you with blue-sky or out-of-the-box thinking, which generally generates impractical ideas that are impossible for any business.
Sprint for Growth was developed to overcome these constraints. It converts big company approaches into pragmatic and meaningful actions that small and medium sized companies can take.

Sprint for Growth aids innovative thinking that generates practical growth ideas.
The process is collaborative. You capture ideas from those around you. The best ideas are collated by the Sprint for Growth team and processed in a format that makes sense and ready for you to start to implement. It's designed to generate growth quickly, at the same time growth that is sustainable.
The best things is that once you've learned and practiced the Sprint for Growth process, it's repeatable. Your investment in Sprint for Growth is returned time and time again.
Who should consider Sprint for Growth?
You should consider Sprint for Growth if you are serious about growing your business and have at least 10 – 100 employees. However, don't dismiss this ingenious approach if you sit outside these parameters as there are several levels adapted to suit size and budget.
How does Sprint for Growth work?
Sprint for Growth Questionnaire
It's a collaborative approach. Firstly, the Sprint for Growth team gain an understanding of your business through the completion of a questionnaire and conversations.
Sprint for Growth Work Books
The Sprint for Growth work books are where the creative thinking is triggered, the inspiration is sparked and the ideas are captured.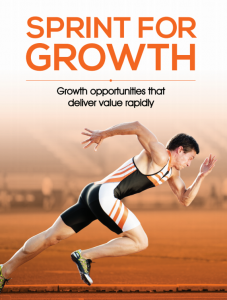 You nominate up to 16 people to complete the books. They may be members of your team, suppliers, customers or those around you whose opinions you value.
The 6 exercises are designed to be fun and take no longer that 90 minutes in total to complete. Perfect with a cup of coffee or whilst on the train to a meeting.
Everyone you ask to be involved will be hugely grateful. The experience they gain from using the Sprint for Growth workbook will be an enjoyable, even inspirational, brain exercising workout for them.
Sprint for Growth Map
Having finished the work book the participants send their best ideas to the Sprint for Growth team. These are collated and a report is returned to you. You now have upwards of 40 brilliant and practical growth ideas. It's time for you to prioritise and start to implement.
From experience it is at this point that many growth strategies fail due to lack of ownership, lack of responsibility and lack of action. This is where the Sprint for Growth Map comes into its own.

The map takes centre stage on a prominent wall in your office. It clearly reminds everyone what the touch points are with your contacts as they move from prospect to customer. You assign a member of your team to own and nurture each of these touch points.
Your best ideas flow into a 'hopper' on the map. These ideas feed into 'sprints'. Each sprint activity has an owner. The actions they need to take are visible to all on the map. And so the job gets done and you begin to see the results.
Next Steps…
If you are serious about achieving growth and would like to find out how you can start the Sprint for Growth process call Nicola on 07565 382803 or email me.
Origins of Sprint for Growth
Sprint for Growth is a collaboration between Nicola Macdonald and Chris Thomason of Ingenious Growth.
Chris has a wealth of experience helping large businesses and organisations to think differently about the key growth issues that they face and to identify practical and ingenious opportunities that deliver organic business growth in the short to medium time frames.
Sprint for Growth converts large organisation thinking to a practical level for the benefit of SMEs.