FREE 5 Minute Marketing Guide
Get your MARKETING STRATEGY right and the clients will flow
This FREE 5 MINUTE MARKETING GUIDE is specifically for Coaches, Consultants and Solo Business Owners Providing a Service.
How to GENERATE QUALITY ENQURIES and a FLOW OF DREAM CLIENTS…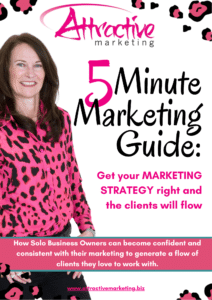 …without that awkward feeling of selling.
Inside this FREE 5 Minute Marketing Guide you'll discover:
1. How to banish your ad-hoc and scattergun approach to marketing to become laser focused and consistent with marketing messages that hit the spot.
2. How to position your services, so that you increase the number of clients buying from you AND increase the price they are willing to pay.
3. Discover an easy way to get your raving fans shouting how brilliant you are, so you never have to feel awkward about 'blowing your own trumpet' and gain a flow of introductions and referrals.
Attracting your dream clients starts right here.
Complete the form to receive your FREE copy of the 5 Minute Guide to Marketing for Coaches, Consultants and Solo Business Owners NOW.
More free stuff!
Take a look at 'Marketing Tips'.  This is a rich resource of practical marketing tips.
To receive new marketing tips as they're added simply sign up to my eNewsletter by completing the form at the bottom of Marketing Tips page.
Download your FREE 5 Minute Marketing Guide NOW!