I spotted and shared this infographic, thanks to a post from Karen Repoli on behalf of Business 2 Community.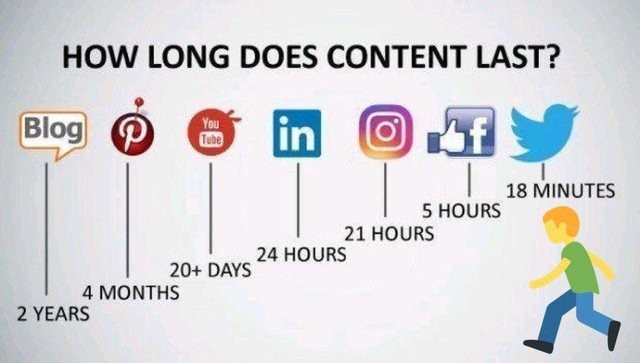 Credit @@affleaders
It just screamed at me: 'Blogging' – why wouldn't you?!'
Blogging is a no brainer
Seeing that a blog lasts 2 years says to me that writing articles for your website is where the effort should be channelled.
Let's consider then, 'Why wouldn't you?'
What's stopping you? Here are my thoughts:
You don't feel confident about writing
You'll quickly run out of ideas and topics
You don't think that anyone will be interested in what you have to say
You don't want to start something that fizzles out after a few months
You don't know where to start
You don't know where to put your blog
It's going to take up a lot of your time and you're not sure whether it's worth the effort
I don't want to go on, because I'm in danger of putting you off before you've even started!
What I'd love to do is look at the flip sides of these negatives, because I know they are not as daunting as all that.
I'm a big fan of writing blog articles for your website, because I see the results it brings to me and my clients. It's a regular lead generator.
You can write!
I remember teaching a formula at one of my workshops for setting out a piece of content. After just 15 minutes I asked everyone to read out what they'd written. One lady was as pleased as punch, saying, "I never dreamed I'd be able to write something like that!"
To build your confidence in writing, here's a handy framework:
Explain the situation that the reader (your ideal customer) finds themselves in
Next detail the problem or issue they are grappling with
If they didn't tackle the problem, what are the consequences? This gives them an incentive to do something about it.
Paint a picture of how their life will improve once they've addressed the issue
Finally, explain your solution and how you can help them. Include a 'call to action' e.g. email me, call me, download my top tips etc.
Start by jotting notes under each heading, then start to flesh it out.
You'll have ideas in abundance!
Once you make a commitment to blogging the ideas will just keep coming!
Start with making a note of:
What questions are customers and prospects asking you?

That's what they're interested in

List the problems you resolve

Think about each of your customers and note what their problems were

What have you been up to lately?

Since we do business with people we know like and trust, share some of your success stories

What's new in your industry?

Is there new legislation or changes afoot? Is there something in the news that you can comment on? Have you used a slightly different technique that not many people know about yet?
Ideas will now start to pop into your mind at the most inconvenient of times, so remember to make a note on your phone or a piece of paper and add it to your communications plan.
If you make a commitment to write just one blog each month it won't take you long to plan all your topics for the year.
Commit to it for your customers' sake!
If you are committed to helping your customers and prospects, writing one interesting, helpful and relevant article each month, is an opportunity to add value and surpass expectations.
Not to share your knowledge is a disservice to them.
Commit to it for YOUR sake!
I believe that writing articles is one of the most positive marketing activities you can do. Here's why:
You're showing off how great you, your business and your services are
It's a great excuse to stay in touch with your database
Adding original content to your website is great for driving visitors to your website – SEO
You can create posts on social media with links back to your website to your blog
It's a very cheap form of marketing
My favourite quote from a client is, "Mrs. X contacted me out of the blue!"
"Not they didn't", I replied.
"You may not have seen them for years, but they receive your monthly eNewsletter containing an introduction to your latest blog article. The time is now right for them and you are the obvious person to turn to. Hence you've just heard from them…..out of the blue!"
Patience is required, but you will definitely be rewarded with regular enquiries.
How to get started with blogging
There's a wealth of information on the Internet that will help you to get started, but I appreciate that it can feel like information overload and you still don't know where to start.
You might find these past blogs of mine helpful:
Taking the pain out of writing articles
If you only do one marketing activity – write a monthly article
If you are a bit of a technophobe you might need some help getting your website ready for adding articles or setting up an email marketing system, such as MailChimp or Sentori, then tying everything together.
If this is the case I can help with the technology side of things (or anything to do with getting you started with writing blog articles for that matter) in a marketing coaching session. Simply send me an email or give me a call on 07565 382803 and we can plan the session to exactly fit your needs.
Alternatively, now you know how important blogging is, but if you feel you can't commit to being consistent, then make the decision to outsource.
I've created a package called Attractive eNewsletter, which takes over the process for you.
I also write blogs for clients and they do the rest. If outsourcing your blogs is the way to go for you, I'd be delighted to help.