I'm reading Matthew Syed's Black Box Thinking and the chapter on marginal gains has got me thinking.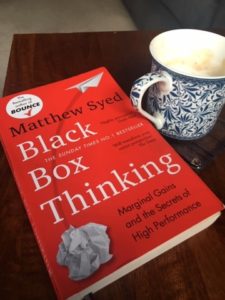 Syed tells a great story about his encounter with Sir David Brailsford, who in 2010 became the general manager of Team Sky. Brailsford's mission was to win the Tour de France within 5 years. A British team had never won the Tour de France since it started in 1903. His critics thought he was nuts.
Brailsford achieved his goal 3 years early. As we know, in 2012 Sir Bradley Wiggins was the first British rider to win the Tour de France. Chris Froome then won the general classification in 2013 and in 2018 victory for Geraint Thomas (British born in Cardiff, Wales).
Syed asked Brailsford how this staggering achievement was possible, to which he replied, "It is about marginal gains. The approach comes from the idea that if you break down a big goal into small parts, and then improve on each of them, you will deliver a huge increase when you put them all together."
I'm sure you've heard the expression "how do you eat an elephant? One small piece at a time". Or "start with baby steps". So, the breaking down of a large goal into smaller achievable ones is nothing new, but it's the improving on component parts and putting them back together that caught my interest.
Syed quotes Brailsford as saying, "If you break a performance into its component parts, you can build back up with confidence. Clear feedback is the cornerstone of improvement. Marginal gains, as an approach, is about having the intellectual honesty to see where you are going wrong, and delivering improvements as a result."
As you can imagine the sections of the cycle race can be broken down, analysed and improved upon but Brailsford's strategy went into minute detail including improving the cyclists' sleep by using the same mattress, hotel rooms vacuumed to reduce infection and clothes washed with skin-friendly detergent.
So, what can we learn from this that will help us improve our own businesses? Sure, we don't have the huge budgets of large organisations, large teams to gather and analyse data, but that doesn't have to stop us.
Let's keep things simple and as an example break the marketing activity of networking into its component parts and think about what improvements can be made at each level.
Applying marginal gains thinking to improving results from networking
Where do you network?
Do the networking meetings you attend deliver a return on your investment e.g. clients, leads, referrals, knowledge?
If not, should you look for a new group to join?
Do the meetings you attend encourage the attendees to make introductions to their networks?
If not, could you suggest this practice or find a group that does?
Frequency
Regular attendance helps build relationships. It takes time to get to know, like and trust
Have you committed 100%? Put the meeting dates in your diary for the rest of the year so you won't miss any.
Elevator pitch
Many networking events start with a 45 or 60 second pitch. We're probably all guilty of being underprepared on occasions!
Put time aside to draft a few first-class pitches. First impressions count.
Presentations
Many networking groups offer the opportunity to give a 10 minute presentation.
Grab these opportunities whenever you can. If it's nerves that hold you back, ask for help with calming and confidence techniques. A well thought through presentation structure also helps with confidence and delivering a clear message.
Killer questions and listening
Having a valuable conversation starts with a great question and attentive listening.
What questions can you ask that get a fellow networker talking about the problems that you resolve? Listening to their response allows your reply to cut straight to exactly the information they need to hear.
Ask for introductions
It's likely that your perfect customer is not at the networking meeting, therefore you need to be able to describe your ideal client in order to ask for introductions.
Follow up
An informal 1 to 1 over a cup of coffee is when networking really starts to work. But at the very least it's worth connecting via social media and continuing to network in the virtual world.
Connect on LinkedIn, Instagram, Facebook or Twitter to like, comment and share their posts.
Gain their permission either at the meeting or in an email to add them to our email marketing list so that you can stay connected via your eNewsletter (assuming you have one!).
How might you apply this breakdown, analysis and improvement to other marketing activities?
Take your website as an example:
Applying marginal gains thinking to improve your website
Content – when was the last time you read every page on your website? As your business evolves what updates need to be made to the content?
Images – if you started with stock images, consider engaging a photographer to create a suite of images that reflect you and your brand. This will resonate deeper with your target audience than stock images.
Blog – add a blog if you don't have one. This is a great way to demonstrate your skills and how you help your clients. One article a month gives you a topic for your eNewsletter and lots of snippets to take from it to share as posts on social media.
Case studies and testimonials – add new testimonials and create some client stories to endorse the great work you are doing with your clients.
Search Engine Optimisation – Is the meta data in the back end of your website complete? This helps searchers to find your website. SEO by Yoast is a plugin that can help you complete the meta data.
Call to action – Does every web page have a call to action? How are you enthusing and motivating web visitors to contact you?
Lead magnet – a visit to your website might be the first time someone becomes aware of you. If you have a lead magnet, which they can download by providing their email address, as long as you make them aware at the time of the download, you can continue to provide helpful and interesting nuggets of information to nurture the relationship.
Video – Video creates a connection with the viewer. Messages can be more compelling when delivered through video. Can results from your website be improved by adding video?
Next steps…
How else can you apply the marginal gains strategy to your marketing and business?
If you would like help to develop a clear marketing strategy, please get in touch. I'd love to hear from you.
Photo credit Rob Wingate