Whatever the situation you find yourself in during the Covid-19 pandemic and lockdown, I believe we need to increase our levels of communication. This positive action, without doubt, will serve you well for the future.
Staying in touch, sharing helpful content and keeping front of mind means that, when the time is right, you will be the obvious choice.
In this article I want to bring a little inspiration, spark an idea or two and give recommendations about how to improve communications, without pushing yourself too far out of your comfort zone!
Inspiration courtesy of Elliot and Kelly
Here are two examples I love where business owners have been very creative, finding a way to engage with and grow their audience. Both Elliot and Kelly will have bigger fan bases to market to once things return to normal.
Elliot Awin
Elliot works with family run wineries to establish long term partnerships for distribution in the UK.
A nice glass of wine and a bit of entertainment is just what we need to while away a socially distanced evening. So, Elliot has filled this void by creating online wine tastings, which are proving to be a great success.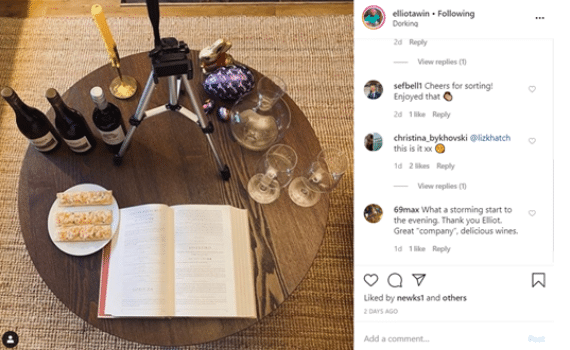 You pre buy three wines and join the online event on Instagram TV, where he discusses the wines and interacts with his guests. During his last wine tasting he was joined online by the South African vineyard owners whose wines were the focus of the tasting. Ingenious!
You can check out the next wine tasting dates on his Instagram ElliotAwin page.
Kelly Smith
Another of my favourites is Kelly Smith, founder of Boogie Monsters Band, an interactive pop and rock band that performs gigs for families to enjoy music in a fun and safe environment.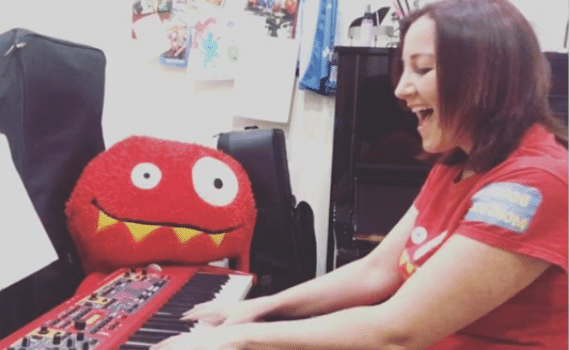 Kelly attended my Marketing Strategy workshop in March. A couple of weeks later when we had the follow up call, the world had changed and all her gigs were cancelled. On that call, she told me she was terrified because she'd just announced a Facebook live hour where she would play children's requests. She's very comfortable running the band and performing keyboard alongside her band members, but confesses she's not a 'front woman' or a professional singer.
In just a couple of weeks her Facebook group has tripled, performing to nothing but a camera no longer feels alien and she's delighted by the feedback and photos of little ones getting their keyboards out and playing along.
Whilst this isn't plugging the hole left by the cancelled gigs, Kelly is building an incredibly engaged fan base. These followers are red hot prospects once lockdown is lifted.
Kelly says, "I wish I had been brave enough to go live online a long time ago!
When all this is finally over, doing live videos and putting more online is definitely going to be high on my agenda for going forward – and won't it be wonderful when we can do it together as a band!"
If you know a family with young children please direct them to Kelly's Boogie Monsters Facebook page so they can join in and have some fun too.
How can you raise your profile, increase your reputation and build a larger audience?
Virtual wine tastings and singing live may be way out of your comfort zone, but there's nothing stopping you from being more active online.
You probably already have Facebook, Instagram or LinkedIn profiles. My question to you is,
"Are you making the most of social media?"
Your customers, networking contacts and loads of prospects are just waiting to hear from you.
If you're not making the most of social media this could be because you don't have a social media strategy, which means you tend to dip in and dip out, wondering whether it's really worth the effort.
When you have a plan you trust and a process to follow you too can start growing your online 'fan base' and generate enquiries.
Grab the opportunity to learn
Here are my recommendations for learning how to use the most popular social media channels.
Facebook
Lockdown has forced me to bring my LinkedIn workshop online. This has created a huge opportunity as geography is no longer a restriction to the people I can market to.
I've decided that Facebook is a good place for me to promote this workshop, but I needed to understand more about how best to use this platform.
I've always been a fan of Veronica Pullen's and when I saw her Facebook Mile-Deep Marketing Bootcamp, I grabbed my spot. I have already gained workshop attendees from following her process and more than covered the cost of this course.
Veronica's niche is helping introverts feel comfortable about marketing themselves on Facebook.
Instagram
I'm dabbling in Instagram! Janet Murray was recommended to me, so I'm watching and learning how she uses this social media platform for growing an online audience. She's just released her 400th podcast and I regularly choose one at random to listen to.
LinkedIn
This is where I'm 100% comfortable! And it seems that I'm getting a reputation for the strategic approach that I teach in my Getting Enquiries from LinkedIn workshop.
Learning how to use LinkedIn as a lead generator is not just a skill to acquire whilst we are in lockdown, it's one that will benefit you for months and years to come. However, NOW is the best time to take action!
If your clients and prospects are on LinkedIn (which they are!) and you want to find out how to build your online fan base, here's what you'll learn in the workshop. How to:
Create an attractive LinkedIn profile that appeals to your ideal client.
Search for and connect with contacts who are super important to you and that you'd really love to work with.
Create content that speaks to your ideal client guiding them along the 'know, like, trust' journey, so that when the time is right it's you they chose.
I've added a couple of bonuses to this workshop.
BONUS: There's a pre-workshop exercise so you arrive totally fired up. You may even experience a light bulb moment!
Taking an active approach to LinkedIn doesn't have to be daunting, intimidating or time consuming.
Here's what Claire Edwards has to say.
"I can highly recommend Nicola's LinkedIn workshop and have received enquiries as a direct consequence of attending one last autumn!"
Check out the Getting Enquiries from LinkedIn page for the next online workshop date.
Keep calm and communicate.