I was delighted to hear that a story I wrote for Reigate Manor Hotel, which was picked up by the local press, has been shortlisted for a Surrey Chambers Award.
Surrey Chambers Award – Best PR Story 2016
To win this award we need your vote….please!  Anyone can vote (you don't have to be a Surrey Chambers member). So, if you like this delightful story with a touch of romance, follow the 'Vote Here' link below, scroll to the bottom of the page, choose 50 years on – Anniversary – Reigate Manor Hotel and cast your vote. THANK YOU!
The story goes like this:
VIP Bride and Groom return to Reigate Manor after 50 Years
Moira and Graham Turner were married at Reigate Parish Church on 25th June 1966. On 25th June 2016 they returned to Reigate Manor Hotel where they had their wedding reception to celebrate their Golden Wedding Anniversary and relive the wonderful memories of their Wedding Day.
Their special link to the hotel started two years prior to their marriage. On her return from living in Africa, Moira stayed at Reigate Manor to spend some time with her Aunt, Miss Park, who owned the hotel between 1947 and 1974. Graham was on a course and happened to be staying at the hotel too. It was love at first sight!
Moira remembers, "This was around the time that Donald Campbell was attempting to break the world water speed record."
Giles Thomas, General Manager at Reigate Manor added, "We've documented the history of Reigate Manor and we know that Miss Margaret Park was great friends with the Campbell family, of world speed records fame. Miss Park agreed to rent the hotel garage to Donald Campbell to house his father's old boat Bluebird K4 so that it could be prepared for one of his many record attempts."
Whilst Moira and Graham were courting they often helped out at the hotel, forging great friendships with the staff. This posed a slight problem for the wedding reception, which was held in what is now the Ball Room, because they wanted all the staff, their friends, to attend. "The solution was a buffet." remembered Moira, "This was preceded by a glass of sherry on arrival then champagne to celebrate. Everyone was able to join in and have fun together."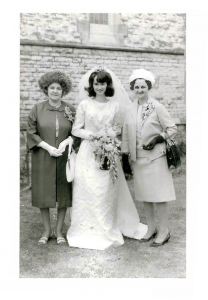 Moira remembers Miss Park as an "extremely glamourous woman who liked to shop in Harrods". She was also a dress maker and made Moria's beautiful wedding dress. Miss Parks is on the left in this photo.
Back to present day, celebrating their 50th Wedding Anniversary with dinner in the restaurant at Reigate Manor seemed most apt. Graham said, "We haven't been back to the hotel in 49 years. It's changed a lot!" Graham continued, "I really enjoyed the tour of the hotel. It took me a while, but once I got my bearings, many happy memories came flooding back."
Here you can see Moira and Graham on their wedding day at the foot of the staircase and 50 years on standing on the same spot with a gold bottle of champagne presented to them by today's just as friendly staff.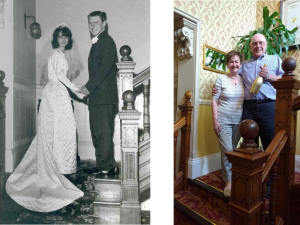 Giles concluded, "It was an honour and a pleasure to meet Mr. & Mrs. Turner and to hear their wonderful stories. We wish them many more years of good health and happiness."
If you like this story please cast your vote!