In a previous marketing tip, I've talked about creating benefit statements to help you identify what it is about you, your products, your services and your business that makes you different. The things that help you to stand out of the crowd.
Another way to differentiate yourself is by giving an outstanding customer experience. The sensations they feel, when they interact with you and do business with you will make you stand head and shoulders above your competition. They'll talk about their experiences and, let's face it, we know how powerful word of mouth is.
In recent research by Salesforce looking at high performing marketing teams, at No. 2 is integrating the customer experience. Large corporations are doing this, defining their sensations and delivering the experience to gain a competitive advantage.  Owners of small businesses, solopreneurs and start ups can develop a customer experience strategy too.
What are customer experience sensations?
Your sensations are the ways in which customers experience all that you do. It's the style of your service or the personality of your business, if you like. Two businesses can have identical products at the same price, but serve their customer in two very different ways.
Your experience sensations are what make you different to and better than your competition.
What are your sensations?
We suggest you choose four sensations. Each sensation should be just one word. Then write one sentence that describes the sensation.
The type of experience you will deliver may be dictated to some degree by the nature of the industry you are in. A funeral parlour would offer a completely different customer experience to a cocktail bar, for example. But even if you were one of these two types of business, you are still in competition with others offering similar services.  Your customer experiences can help you to differentiate your business – so you stand out in the marketplace.
Two examples of experience sensations for a funeral parlour might be:


Examples of sensations for a cocktail bar could be:
Source: Sprint for Growth Blueprint
Don't choose sensations that mean the same thing, for this will merely be replication of a single sensation. Instead aim to compile four individual sensations that create combinations to inspire you to be superior and to deliver better experiences for your customers.
Ensure that the set of sensations that you decide on are different to those that you feel your competitors might have. Customers prefer to have a choice between two different things rather than between two things that are the same.
Also avoid words like sensible, honest, trustworthy and reliable, as these are things that customers expect a business to be – for if you aren't displaying these characteristics then they will cease doing business with you.
Once you have your four sensations identified and defined start to make a note of ideas for ways you can demonstrate this sensation to your customers, to the other people (and stakeholders) within your business, and finally how this sensation can be demonstrated in your physical work environment and through your products and services.
All these things will help to embed the sensations in all you do in your business.
Review your sensations
Once you've defined your sensations you shouldn't change them as these become the consistent behaviours that your customers recognise as the 'personality' of your business.
You should regularly look at the different sensations and try to identify new and better ways to exhibit that sensation by adding fresh ideas onto the four spaces below it; for you can always find ways to be better.
Sprint for Growth Blueprint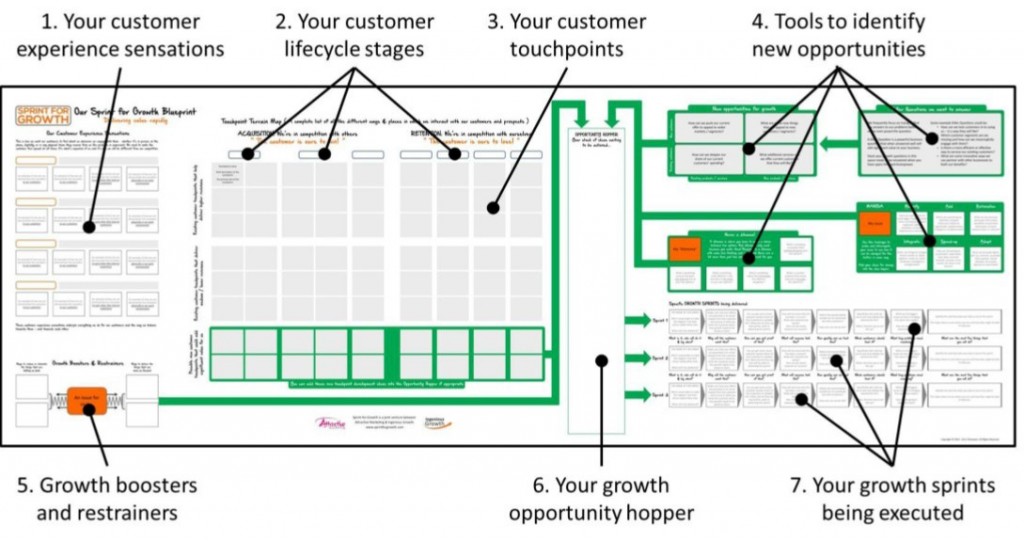 The Customer Experience Sensations is the first section on the Sprint for Growth Blueprint.  The Blueprint is designed to put on the wall of your office or workspace. It's the big picture of your big picture. The Blueprint helps micro-businesses, solo-preneurs and startups to imagine, devise, plan and achieve future growth.
Sprint for Growth Blueprint costs £69.95 (including VAT). The website to purchase your Blueprint will be live very soon! In the meantime to place your order email me.