A Business Book with a difference
I'm so happy to be able to offer you this free business book, thanks to my friend, Chris Thomason.
I've mentioned before the power storytelling as a means to deliver your marketing messages.
The power of storytelling
When you meet someone networking, describing how you've helped a client makes it so much easier to understand what you do, rather than reelling off your services.
Case studies are another great way of describing who you work for, how you help them and the benefits and results you deliver.
Starting a blog article with "Imagine…" allows the reader to immerse themselves and associate with the story you're about to tell. It's a great way to grab attention and keep their interest.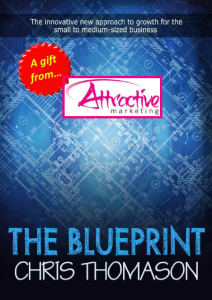 Chris has used the story telling approach for his book The Blueprint. It makes a refreshing change from other business books you might have picked up. What's more, I'm sure you will associate with the characters and you can actually join in as they go through their journey.
In each chapter Zak gets Slater and Nick looking at their businesses in a totally different way. They're given new tools to get them thinking creatively. They have to apply these to their businesses and report back their thoughts and findings the next day.
This made me want to keep on reading to find out what ideas they had come up with and what their next task might be.
It's packed full of creative ways to think about how you could grow your business. Best of all it's practical.
Cick the image to download your free business book: The Blueprint.
Chris has asked me to let you know that, if you have enjoyed his book and found it useful, he is very happy for you to share your copy of The Blueprint.
I'd love to know what you will do differently having read The Blueprint. You can use the comments section below or send me an email.