1st June marks the 5th Anniversary of Attractive Marketing! 
I'd like to say a BIG THANK YOU to all those lovely people who have supported me during this exciting and very satisfying journey. I hope in return you find my regular marketing tips
helpful for your business. There's many more to come!
Launching Sprint for Growth | The Blueprint
It seems very apt that I've chosen this time to launch Sprint for Growth.  Sprint for Growth is a joint project with Chris Thomason of Ingenious Growth. Together we've created The Blueprint.
The Blueprint is the BIG picture of your BIGGER picture and has been especially created to help owners of small businesses to achieve business growth.
It's a wall-mounted map that helps you to identify and deliver new growth opportunities. It looks like this:
The Blueprint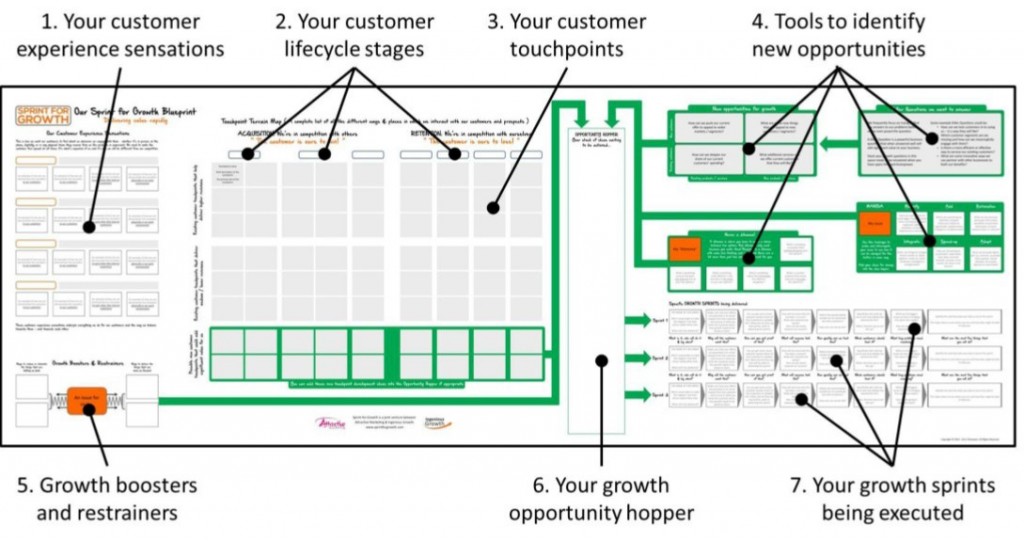 The Blueprint acts as stimulation to help you be more creative when it comes to identifying business ideas. It also has tools to help you find new solutions to overcome growth problems you may be experiencing. It captures all your business ideas, which in turn feeds your growth sprints that guide you in a practical and logical way to take action.
There's a FREE Blueprint Guide, which you can download from our dedicated Sprint for Growth website.