1st June 2011 was the date I started Attractive Marketing. The last six years have been brilliant. I've worked with a wide variety of interesting businesses and met some wonderful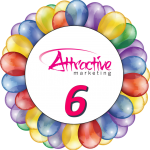 people.
I've tried some things that haven't worked, but I've clearly done many things that have contributed to my successes.
So, I've taken this opportunity to reflect on the last six years and come up with the top three learnings that I would pass on to someone who was just starting their business.
Equally, I'm fond of the saying that you never stop learning, so these points may also help some established businesses too!
The most important lessons I've learnt in the last 6 years.
1. Your database is the life blood of your business.
On 1st June 2011, I sent 60 emails to a selection of the contacts I'd built up over the previous years.
The email went something like this:
Since you've been in business a lot longer than me, which is currently under 1 day, I wonder if you have some advice you're happy to share with me. If so, I'd gladly buy you a cup of coffee!
From the 60 emails sent, I made 10 appointments. From the 10 appointments, I gained 4 clients. All within the first month. I hit the ground running and have never looked back.
What I've learnt…
This demonstrated to me how powerful and important your database is.
It also showed me how willing people are to help when you ask for it. This generosity is something I'd like to think others see in me too.
2. Building relationships
It's all very well building a database of contacts, but relationships need to be nurtured. It takes time for people to understand exactly how you can help them and trust that you will do a good job. To achieve this, I believe you need to:
Be generous with your knowledge and
Stay in touch on a regular basis
How I do this…
One way I share my knowledge is by writing a marketing tip each month, which goes on my website. After 6 years there's a huge resource of helpful information that I can direct people to.
I keep in touch with those I meet whilst networking and people who have found me on-line, by emailing them to let them know the topic of the latest marketing tip and directing them to my website where they can find out more, if they wish.
What I've learnt…
This has been a regular lead generator for me.
Consistency is what makes this marketing activity a success.
It's a process I've shown others how to implement. I've also created it as a 'done for you service' called Attractive eNewsletter Package.
3. Adapt your offering to the needs of your prospects
When I first started, I assumed I would work with owners of small businesses with between 5 to 20 employees. I'd be part of their team and help develop their marketing strategies as well as implement their marketing campaigns.
I was right!
But, what I hadn't expected was that I would meet so many people that needed my help, but didn't have the budget to outsource. These are typically the micro-business owners or solo-preneurs.
They needed to learn how to do their own marketing.
This is when I created Attractive Marketing Coaching. When I started 6 years ago I never dreamed that I would be teaching business owners the marketing skills they needed to grow their own business.
What I've learnt…
Ask questions that get people talking about the problems they have.
Ask yourself what you can do to help resolve their problems.
Then develop a solution!
If you are starting a business, I hope these lessons will be as valuable to you as they have been to me.
To your success!
Please help others by using the sharing buttons below.