I regularly talk about stepping stones to describe the process of guiding your contacts to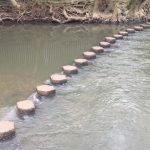 become prospects and your prospects to become customers.
Each stepping stone is a marketing activity that draws people closer to you.  It enables them to understand how you can help them, feel comfortable that you'll do a great job for them and be confident and enthused enough to place an order.
Low Risk Taster
A Low Risk Taster brings a prospect one step closer to becoming a customer.
A Low Risk Taster is an activity where, for a small financial outlay, your prospect can experience what it might be like to work with you and then, if you've done a great job, move to the next stage and become a fully-fledged customer.
A Low Risk Taster starts to separate your prospects from those that are merely interested in free advice or downloads that you might offer. When you ask them to make a financial outlay, albeit a small one, it helps you to identify your hotter prospects; the ones that may be thinking of purchasing at some stage. They just need a little nudge!
Offering a Low Risk Taster puts you in a very powerful position. It's your chance to inspire, prove and motivate them to want more.
Here are a couple of examples or Low Risk Tasters I've seen recently.
Reigate Manor Hotel – launch coffee & tea loyalty card
The loyalty card gives Reigate Manor the opportunity to show off their tasteful refurbishment.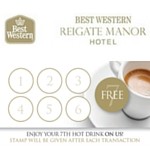 By inviting and encouraging business men and women to hold their 1:2:1 meetings in quiet, comfortable and professional surroundings, at a convenient location with ample parking, the hotel will soon become a familiar venue for these people.
When they next need to hire a meeting room or hold a workshop the hotel's conference facilities will be the obvious choice.
All for the price of a cup of coffee.  And the 7th one is free!
A tasty Low Risk Taster! 
Choosing a chiropractor – King Chiropractic
When my daughter, Hannah, moved to London she needed to find a chiropractor closer to her new home.
If you search on the Internet there is a vast choice, but she came across a Groupon voucher for King Chiropractic which cost £45 (actual value of £250). The package included a scan, meeting to explain the report and 2 adjustments.
Having had treatment before Hannah knew that she needed regular sessions. Her concern was that she needed to find someone she could trust and feel comfortable with. This package was a perfect Low Risk Taster for her to make this decision.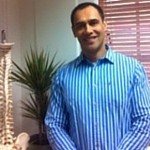 For those that hadn't been to a chiropractor before, by the time they've visited the practice three times, Don Murray, the charismatic owner and Doctor of Chiropractic, will have won them over through education and complete trust in him. The cost to continue becomes insignificant in the decision making process. Don comes highly recommended.
A handsome Low Risk Taster!
Other Low Risk Tasters
Open Workshops – I have gained retained clients through running workshops. Each time 1 or 2 of the delegates want to continue improving their marketing skills or ask me to create and implement their marketing plan and activities.
Bespoke workshop or kick off meeting – This is a great way to get more people in the business involved. It gains their buy in and agreement to roll out a project.
Pilot or Phases – Suggesting a pilot to prove that an idea might work or quoting for work in phases makes it much easier for the decision makers to agree to go ahead. The risk to them is a lot lower.
These are service based examples.  Of course there are product based ones too, such as trial packs.
What is your Low Risk Taster?
I'd love to hear about your Low Risk Taster, so please tell me what you do to guide your prospects a step closer to becoming a customer in the comments section below.
If you don't have a Low Risk Taster and would like to arrange a complementary telephone call to explore some ideas please contact me on nicola@attractivemarketing.biz or call on 07565 382803