Combine 3 marketing activities for increased effect
If you belong to a networking group that offers the opportunity to give short presentations – grab it!
Presenting to your network is a great way to raise your profile and stand out from the crowd. It gives you the ability to demonstrate your knowledge and experience and helps people to get to know, like and trust you; all essential steps along the way to gaining referrals and customers.
4Networking gives you such an opportunity and I've recently been presenting, 'The Marketing Power of 3' to several of the groups.
'The Marketing Power of 3' is all about:
Networking

Email marketing

Articles on your website (often called blogs)
Each of these marketing activities on their own can be pretty good, but combine them together and they are really powerful.
Here's an example. I met one of my most recent clients only once, 18 months ago at a networking event. In the meantime, I kept in regular contact by emailing a link to my monthly marketing tips on my website. Because I'd kept on their radar and sent them information that was relevant, interesting and of value to them, when the time was right, it was me they picked up the phone to and said 'let's work together'. Guess what my first task for them was? Yes, helping them create their very own Marketing Power of Three!
Networking – VIPs
I hardly need to point out that the people you meet whilst networking are very important to your business.
Prior to starting Attractive Marketing it wasn't appropriate to talk about my plans. So on 1st June 2011, I sent 60 emails to a selection of my networking contacts announcing Attractive Marketing and saying that if they had any advice for me about running your own business I'd love to buy them a coffee. From 60 emails I gained 10 appointments and by the end of the month I had 4 clients. I'd well and truly hit the ground running. So much so that I had to adjust the targets I'd set myself for the first year. That is the power of networking.
To further illustrate how important your networking VIPs are, imagine if you had to take six months out due to illness (heaven forbid) or had the opportunity to go off travelling (what a lovely thought!). On your return it will be your VIP network that you turn to, to kick start your business again. But how easy would that be if you'd not taken steps to develop those relationships along the way?
So, what do you do with the business cards you are given whilst networking? Are they hidden away in a draw? Hopefully you do something with them!
Email Marketing – keep in touch and nurture the relationships
I'm a great fan of email marketing, provided it's done correctly. There are some really good email marketing systems available, which makes this a very efficient and cost effective marketing activity.
One of the problems though, is that we are bombarded with information every second of every day, so there are some important things to get right to ensure that it works.
These three tips will help to get your message noticed:
1. Subject: You can craft the most brilliant of emails, but if the subject line isn't compelling or intriguing and doesn't motivate the recipient to open it, all your good work will have been in vain. I don't like seeing 'October newsletter'! I want to know what's in the October newsletter; what I might learn; something I just must not miss out on.
When you've written an eye catching subject line, next is the teaser paragraph in the email. It needs to present the topic of your news, ideas, tips or advice in such a way that the reader just has to know more. Then they will click on the link to read the rest of the article on your website.
2. Target the right people: Quality over quantity. It's far better to grow your list organically, with people who have agreed to receive emails from you. If you have a clear picture in your mind of your ideal customer and you are identifying these people whilst networking your emails will be well received.
Targeting the right people is all about focusing on a niche. When you focus on a niche you will be attracting your ideal customer, because you will be talking about their problems and how you can resolve them. You become the 'must go to' expert, which helps you to stand out from the crowd.
If you need some help focusing on your niche? Take a look at 'Getting to know your customer'. It's a FREE on-line marketing package.
3. Relevance: To develop these relationships your emails must contain relevant and interesting information. If it is of value to the recipient it is much more likely to be opened and less likely they will unsubscribe. But most importantly because you've demonstrated your expertise and added value in the meantime you will gain their loyalty and their business when the time is right.
Articles on your website – also known as blogging
Add value: This is where you are able to demonstrate your expertise. A really good way to do this is to provide tips that are useful for the reader. As you build up a library of tips, it becomes a rich resource for directing people to. If you have a conversation at a networking meeting about a subject you've covered, you can follow up by sending them the link to that particular article reminding them how you can help them.
SEO: There's an added bonus too. Google is very interested in the content on our websites and therefore adding good quality information, regularly helps with search engine optimisation.
Easy on the eye: For speed, people often scan read articles before deciding whether to read the detail. To make this easier, keep your articles short and concise, using headings, bullet points and formatting to help the eye catch the most salient points.
KISS – Keep it short and simple: I'm aware for many it can be frustratingly difficult to get your ideas down and written in such a way that is clear and concise. If you're ever struck with writers block my tips on 'Writing a compelling marketing message' will help.
Be consistent: If you want to stay on your prospects radar you'll need to be consistent with your contact and your articles. It can be a bit of a task to think about different subjects for your articles, so I've come up with 6 ideas to gain inspiration. Of course once your article is on your website you need to let everyone know it's there so I've added 7 ways to get your article read. You'll find these in the marketing tip 'Inspiration for writing articles'.
Now you've created the 'Marketing Power of 3' and it looks like th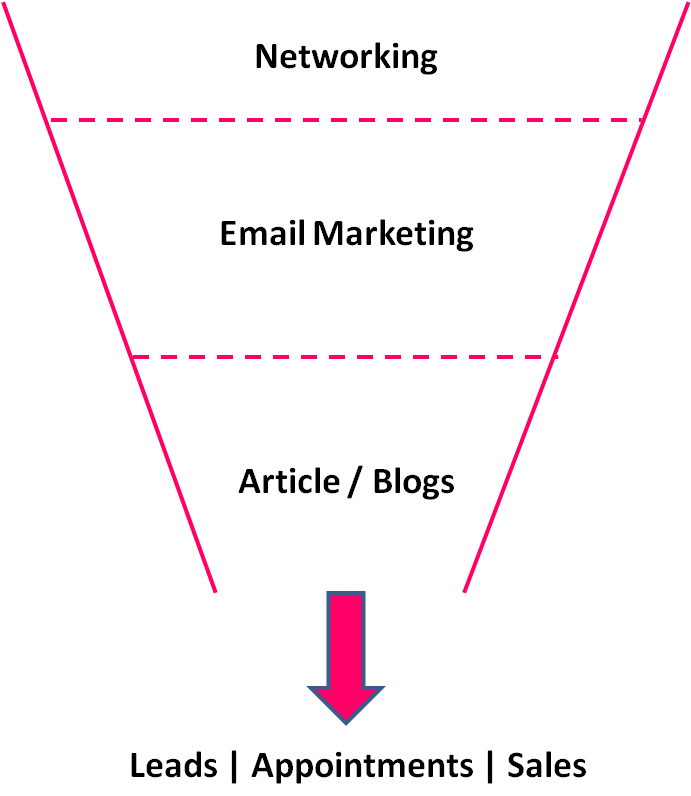 Marketing Power of 3
As you add more and more people in the top (this might not be just networking, it could be from exhibitions or telemarketing) and they go through the stages of your marketing machine you will begin to see regular leads, appointments and sales come through.
You will Be Seen; Be Heard; Be Chosen
There's no reason why you can't keep in touch with prospects, generate leads and gain business, in this way too.
If you'd like help to set up this system give me a call on 07565 382803 or email me nicola@attractivemarketing.biz
I use and recommend Sentori Email Marketing System. Give me a call if you'd like to know more about Sentori or take a look at how it could work for you.