Twitter always produces the noisiest conversations and greatest number of questions during my marketing workshops, especially how to use twitter for business to attract prospects and customers.  So I thought it was about time to share some Twitter marketing tips.
Just as I put pen to paper (or fingers to keyboard!) in popped an email from Veronica Pullen, "The Social Marketing Relationships Queen", with the great news that she is now a published author and we can buy her book "Social Prospecting For Twitter" from Amazon in both Kindle and paperback version.
This gave me the brilliant idea to invite Veronica to 'guest blog' and answer some of your most popular Twitter questions.
Over to you Veronica…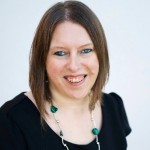 Thank you Nicola!
Gone are the days when your prospective customers were happy to be 'sold at'. Nowadays your prospects want to know that you're listening to them, care about them… and more importantly, hearing what they have to say.
It's only when people feel that you care about them that they'll feel valued… and when they feel valued, your competitors won't get a look in when they're ready to spend money.
And Twitter is the best platform for finding and engaging with your ideal prospects… and converting them into customers, referrers and raving fans!
Once you've set up your Twitter account, the first dilemma you are faced with is what to tweet about… when you know you "have" to write something, your mind goes blank and you can't think of one single thing to say!
Or is that just me?!
Anyway, my advice to you is to tweet about anything and everything, provided it is;
Relevant to you: this also relates to your personal life… so if you are off to a Rolling Stones concert, tweet about it. People buy from people, and your shared interests can draw your prospects towards you. Be authentic.
Relevant to your followers: what is the pain that your prospects face that your products or services relieve?
For example; you're reading Nicola's blog to learn more about marketing your business… so in following Nicola on Twitter, you like to see a steady stream of tweets sharing marketing tips.
But I imagine you also enjoy seeing what Nicola is getting up to elsewhere too… it all helps you get to know her better and feel more connected?
So don't shy away from sharing personal stuff because you think nobody is interested… they are!
However, please do remember that there is permanence to what you tweet; anything you tweet could be found at any time… even years later! So, my rule of thumb is to never tweet anything that you wouldn't want your mum, granny or kids to see!
But of course… what YOU tweet is only a small part of Twitter… what is more important is what tweets you find, and what action you take.
So, now I'd to talk a bit about your engagement style… and finally I'll give you a strategy for finding your ideal prospects that you can use today and start putting these tips into practice.
Ok, firstly, I'd like to share my mantra with you. This is the single most important sentence you will read in this blog post, so please take a minute now to write this down and pin it up on your wall… somewhere you'll see it regularly.
"To make more sales, I will give people what they asked for or hoped for when they wrote their tweet"
Have you written that down? Ok, let me explain in a bit more detail…
When people choose to follow you on Twitter, they're looking to you to add value to their time on Twitter. I define value using my S.M.I.L.E. pseudonym;
S – Solutions
If you see a tweet asking a question that you can help with, offer your solution or advice. When they wrote their tweet they were hoping to get answers – give them what they hoped for.
• If their tweet is about exciting news, share in their excitement.
• If they're frustrated, acknowledge their frustration.
• If you've read a blog post that you enjoyed, tweet the author and tell them (you can tweet me @VeronicaPullen – I'd love to hear from you!)
Basically, just look at the tweet and ask yourself what kind of response is relevant… then respond accordingly.
M – Meet your ideal clients
Once you have engaged with your ideal clients, you have taken the first step to building a relationship.
Next, follow them or add them to a list so you can regularly monitor their tweets and add value as I discussed above, as often as you can.
Remember to always give people what they asked or hoped for… then you'll be building emotional connections which will quickly develop into the trust they need to commit to a sale.
I – Inspire with your content
Share content that will educate, inform or entertain your connections. It could be content you've created (Blogs, videos etc) or if you see content that you feel would appeal to your connections, you can share that too.
L – Listen
This is just a reminder that networking on Twitter is not about you, but the people you connect with. The "two ears, one mouth" philosophy that applies to your offline networking is also applicable to how you build relationships online.
Spending more time listening to (reading and responding with value adding responses) your connections than you do talking about yourself, will see you build a solid stream of followers that care about your success.
E – Engage
Get proactive and initiate conversations with other users. Remember, the people who know you already, well… they already know you!
Every time you tweet someone new, you are introducing your business (and yourself) to someone who doesn't yet know you exist… where could that lead?
And finally… a simple search strategy for finding local clients; Foursquare is a location based service that allows people to "check-in" at premises using their mobile phone.
The benefit for you is that many people have their Foursquare account linked to their Twitter profile… so every time they check-in somewhere, a tweet is sent to their followers.
This is a fantastic opportunity to find people who have checked-in somewhere local to you. E.g. they live, work or visit places or people in your area… potential clients?
To find them, using the search box at the top of Twitter, type the following into the box
Foursquare+[location]

Then hit ENTER and on the next page, click "tweets" and "all" as highlighted in the image below
So… foursquare+Reigate if you live in Reigate.
The results will show you everyone who has checked-in anywhere in Reigate in the 7 days previously. Now all you need to do is send them a conversational tweet (not selling!) and start building that relationship!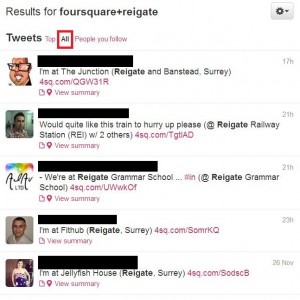 Happy tweeting!
That's brilliant! Thank you very much Veronica for sharing this valuable information with us.  And good luck with the book!  Nicola x
Veronica Pullen AKA "The Social Marketing Relationships Queen" is a Social Marketing Strategist and Mentor based in Redhill.
Her client list includes some of the big names in the Expert industry… Dr Joanna Martin, Nick James, Fiona Harrold, Kimberley Davis (BBC Apprentice)… and many small business owners from around the world!
Veronica's Surrey Mirror social media column is published on the last Thursday of every month, and her new book "Social Prospecting For Twitter" is now available from Amazon in Kindle and Paperback formats.
For more information, visit her website www.veronicapullen.co.uk/book